SEO has many benefits for any business, from local to global. It can create a competitive advantage over other businesses. Enable companies to better understand their customers, and provide a way to connect with people around the world.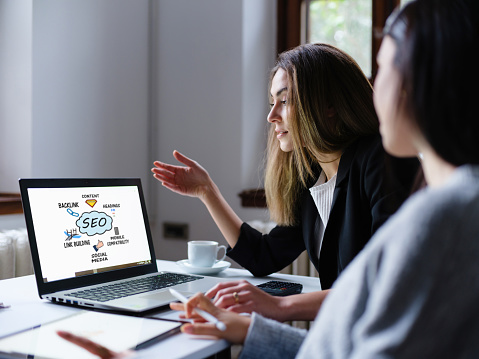 The goal is to rank higher in search engine results pages (SERP) and get a lot of traffic to your website.
Search Engine Optimization, is a way to increase the visibility of a website. In this guide, we will look at how SEO works. And why it's important for businesses to utilize SEO strategies as part of their online marketing efforts.
What is SEO and Why is it Important?
Search engine optimization (SEO) is the process of affecting the visibility of a website or web page in a search engine's unpaid results—often referred to as "natural," "organic," or "earned" results.
SEO refers to the process of improving a website's ranking in search engine results pages (SERPs). It helps search engines like Google better understand what your content is about and how relevant it is to queries entered by users. This helps ensure that your site appears more prominently in search results for those queries.
Knowledge about SEO can be useful for people who want to market their business or product online. It can also help them to improve the way Google sees and ranks their site, which means they'll likely get more traffic.
SEO is important because it can drive traffic to a website and thus help in driving sales for the company. SEO also helps in getting more visibility on social media platforms like Facebook, Twitter, LinkedIn etc.
Search engine optimization is the practice of affecting the visibility of a website on search engines.
It helps search engines like Google to find new content and deliver it to people searching for information. SEO also helps search engines like Google understand whether or not your web pages are engaging, relevant, trustworthy, and authoritative.
There are many reasons why SEO is important but here are some of the most important ones:
SEO has an impact on your site's ranking in search results which in turn affects how many people visit your site.
It is not difficult to set up SEO for a website, so there is no need to pay someone else to do it for you.
If you have an ecommerce site that uses paid advertising then you will find that customer conversion rates will improve and lead to increased profits.
The Top 3 SEO Tools Every Beginner Should Know About
SEO tools are imperative for any beginner to know about if they want to optimize their online presence.
We shall be discussing some of the most useful SEO tools that can help you with your online marketing campaign. This includes:
Keyword Research
Domain Name Selection
Website Analysis Tools
Content Optimization
On Page Optimization Tools
Link Building Tools
This is where I'll go into detail about the three SEO tools that I think are most important for beginners to know about.
The term SEO for beginners is often associated with what you can do on your own, but that doesn't mean it's not worth investing in professional tools to take your SEO game to the next level.
One of the best investments any beginner can make is installing Google Webmaster Tools. This tool provides an overview of your site's performance, letting you know which pages are indexed and how many backlinks are pointing to each page.
The tool also has a spam report section, where it will let you know if there are any search engine spam reports for your site.
The service provides various features for search engine optimization (SEO).
Some of the features provided by this tool are:
Websites Crawler – this feature provides a list of all web pages on your site, including those that are found by the crawler and those that are found by links to your site. This is useful for ensuring that you crawl only the URLs that you want to crawl, which can help avoid crawling too much content or duplicated content.
PURLs Crawler – this feature crawls all of the URLs in your PURLs file and checks them for validity, unvalidated URL errors, and redirect chains. This is important because PURLs files are often used as an alternative to robots.txt files when they want to block or allow certain pages on their site based on user-agent type.
Site crawling: This feature allows you to find and fix issues on your website.
Domain analysis: A domain analysis looks at the website and detects any issues that might be affecting the site's SEO.
Links: It provides information about links on a domain and how they affect its ranking.
Hints: A Google webmaster SEO tool can provide you with insights into how to improve your site's performance.
Site health report: The Site health report provides insights about the website's performance in Google search results.
Sitemap reports: This section shows how many entries are indexed, how many errors were detected, and how many duplicates were found.
HTML sitemap reports: This section lists all URLs that are available for crawling through an HTML sitemap.
2. SEMrush
This tool offers an all-in-one solution for digital marketing, including keyword research and content analysis, making it one of the most popular SEO tools around today.
It's also more of a professional tool with many different features and functions including competitive analysis, keyword research, rank tracking, and on-page ranking factor analysis
It is a powerful SEO tool that offers the following features:
Keyword research: SEMrush offers a very extensive and robust keyword search. It also allows you to filter keywords and view which keywords competitors use.
Content idea generator: This offers an optimized content idea generator that you can use to create new content ideas or write blog posts on topics that rank high for your target terms.
Site crawl: SEMrush provides an extensive site crawl with the following features: crawling errors, duplicate URLs, internal links, external links, title length by page, meta description length by page and more.
Domain comparison: You can compare any of your domains with up to five competitors of your choice in order to see where they are strong in the SERPs.
Competitive Intelligence: This section provides information on the keywords that your competitors are ranking for, the number of backlinks they have, and sites linking to them. You can also see their organic keywords and ads.
Rank Tracking: This tool tracks your rankings from multiple search engines within a given time period. It also shows a trend for how you've been performing in the past month or year. You can filter this by country or region as well as by different search engines like Google, Bing, Yahoo! etc.
Site auditing: The SEMrush scorecard provides a quick overview of what's going on with your site for any given keyword, such as position, traffic, backlinks, etc.
Domain data: The domain data shows the number of links coming into each page of your site from other pages on the web, which can be helpful in figuring
Keyword tracking: It allows you to track the keywords which you want to rank for and how well they fare against other relevant keywords.
Check out SEMrush detailed review on our website
3. Google Search Console SEO tool
This is a free tool offered by Google, to help webmasters and site owners understand how Googlebot sees their site.
It provides a variety of tools for website owners to use. They can see what keywords are driving traffic, how many pages are indexed, and crawl errors.
Google search console offers the following features:
It tracks visitors to your site by showing their geographic location.
You can view the index count of each page, including duplicate content.
This tool is able to find broken links on your site which can be detrimental on your SEO.
The plugin detects 404 errors on your website and alerts you when they happen.
It provides keyword analytics that allow you to see which keywords people are using to find pages on your site or other sites in the same industry or related fields.
Visibility into site performance including indexed pages, crawler errors, top search queries, and more
Queries that users have typed into Google that led to your pages in the results
A list of the URLs where you've blocked Googlebot from crawling
A list of pages with this message: "This isn't a real page" -The number of URLs you have in Search Console with no crawl activity for more than a year
Settings for sitemaps
Crawl errors report with suggestions on how to fix them.
How to Optimize your Content for Search Engines with these 6 Newbie-Friendly Techniques
Search engine optimization is the process of affecting the visibility of a website or a web page in a search engine's unpaid results—often referred to as "natural," "organic," or "earned" results.
To optimize your content for search engines, you need to add meta tags and meta descriptions. These elements are visible in both Google and other search engines when users look for information on your topic. The meta tags help determine what your content is about, while the descriptions tell users what they'll find if they click-through to your site.
Add Meta Tags: Adding meta tags will help ensure that Google and other search engines know what your page is about and why it might be useful to their users. One way you can add these tags is by using HTML
Segment your keywords – Choose a few keywords that are particular to your niche and list them down in a column. Give their corresponding page number. Allocate at least three different keywords per blog post so you have something to work with. Even if they are not used in this specific piece of writing.
Create an informative, keyword-optimized title – A clickbait title will only disappoint readers, so be sure to include keywords in the title to ensure people are drawn into reading it. Include your target keyword as close as possible to the beginning
Title Tag: Every article should have a title tag that is not just a sentence long but also contains keywords related to the article.
Meta Description:Meta descriptions are short summaries of your article and can be written as you would write a tweet for example, but they should include keywords as well as an enticing preview of what the page contains.
H1 Tags:H1 tags should also contain keywords and be relevant to the topic of your content, but they should also be descriptive hence their name (H1 stands for 'heading 1').
Outbound Links:Outbound links should only go to pages that are relevant and contain content that is on-topic and useful to your viewers, rather than linking out
Others include:
Use keywords (e.g., "keyword")
Add links (e.g., "link")
Optimize the images (e.g., "images")
Use bullet points and headings (e.g., "bullet points" or "headings")
Include social media sharing icons
Include your target keywords in your URL address
Optimize your images with keywords
Write long-form content that provides useful information to readers
Review and update old pages on a regular basis
What to Keep In Mind When Optimizing Your Website
Optimizing your website is the key to success for any business. And, it can be easy if you have the right tools to do so.
The first thing you need to do is focus on optimizing your website for search engines, because this will give your site a higher ranking in search engine results pages (SERPs).
The next thing you should keep in mind when optimizing your website is UX design. It may sound like an obvious point, but many businesses overlook this crucial factor during their site redesign process.
If the user experience isn't up to scratch, people won't be able to find what they need on your site and will leave without buying anything. This can spell disaster for any website owner who relies on web traffic for revenue.
Making sure that your website provides great user experience is an important factor for SEO. This is because search engines want people to be happy with the results they get when using them.
Knowing which keywords you want to rank for and focusing on them will help you optimize your site for search engines.
Search engines use keywords to find what someone searched for and then rank websites accordingly based on their relevance. The more relevant your website is, the higher up it will show in the search engine's rankings page.
How Search Engines Work And How They Rank Websites
Search engines, such as Google and Bing, crawl the internet and rank websites by relevance to what a user has searched for. A user's search is influenced by the popularity of the website. The more popular a website, the higher it will be on the search engine's rankings.
Google uses hundreds of factors in their ranking algorithm; some of which include: keywords used on a page, how often keywords are used throughout a site, who linked to this page/site/blog post, and how authoritative or trustworthy that linking site is.
Bing uses page load speed and "breadth" of topics on a given website in their ranking algorithm.
The algorithms that search engines use for ranking websites are often updated due to advances in technology.
Basic Steps to Optimizing Your Website For Successful SEO
The reality of modern SEO is that Google is always changing its algorithms, and it's important to understand the basics. How to ensure your site can stay up-to-date with these changes.
In order to optimize your website for successful SEO, you will need to keep at least a couple of things in mind:
Make sure your website is mobile-friendly:
The first step in optimizing your website for SEO is to make sure that it's mobile-friendly. Google provides a tool called Mobile-Friendly Test that you can use to see if your site passes its standards. If not, you may need to go through the process of redesigning your website. Or hire someone who can help you fix this issue.
Create a Content Strategy:A content strategy is a set of rules that guides the creation and management of your website's content. It will help you produce relevant, high-quality content that satisfies human visitors as well as search engine crawlers.
Create a User Experience Strategy: A user experience strategy is all about designing how visitors interact. With your site so they can easily find what they're looking for and have a good (or great) experience while browsing.
Use targeted keywordsThe next step is adding targeted keywords on the site's Meta tags and description fields. You should also include keywords in headings, subheadings, and paragraph descriptions throughout the document.
You can also include the following:
Choose a domain name that is memorable and easy to remember
Pick a domain name that has keywords in it
Create content on your website that is keyword rich and relevant
Make sure to choose an appropriate title tag for each page on your site
5 Simple Strategies That'll Help You Achieve your Goals with Search Engine Optimization(SEO)
Search engine optimization is a broad topic that has a lot of components. Here are five strategies that will help you achieve your goals with SEO.
Learn what you can about keywords and targeting them effectively in your content.
Provide valuable content to your readers, blog followers, and visitors.
Implement proper linking strategies to your site or blog posts to boost exposure on the web […]
Make sure the information on your site is updated regularly so it stays fresh for search engines to crawl.
Consider using external links in your posts related to the topics you are writing. So people viewing those posts will be exposed to other blogs or websites with similar subject matter
Conclusion
In this article, we have learned about some simple strategies to help us achieve our SEO goals. All of these strategies are designed to provide a solid foundation for any website and will help it rank better in internet searches.